Grab your toddler (ages 18 months-3 years) and come on down to Creative Tot Mornings hosted every Monday-Friday between 10-10:45AM. Creative Tots season runs throughout the school year. (We offer Summer Camps throughout the summer.) Creative Tots will resume the Tuesday, Sept 4th. (After Labor day) Creative Tot Mornings are specifically designed to help your growing toddler explore art for the first time in a variety of different ways. Your child will have the opportunity each class to engage in new and exciting art materials and strengthen fine motor skills such as lifting a paint brush, squeezing, pinching, and sculpting. Our studio offers toddler height tables and chairs, a sink for cleaning up, water tables, toddler size smocks, and just about every art material you can imagine!
If your tot is now between 3-5 years and you are looking for them to try new materials and continue their artistic growth, check out Creative Explorer program. 
What's the format of Creative Tots Mornings? 
Each class is designed to help your child develop an understanding of the world around them. Classes begin with story time. Toddlers and their grownups will listen, watch, and experience a different book or story each week. Following the story, toddlers and their grownups will be presented with activity centers & or projects designed to SPARK imagination & foster growth in your tot.
For example: If we read the book: The Rainbow Fish toddlers would complete their morning by creating different projects and participating in activities:
painting ocean water with different textured paint brushes
blowing bubbles and making their own bubble wands
creating a sand dough that can be rolled, pinched, and sculpted
looking at shells, coral, starfish, and more in our very own touch pond
Where can I see examples of class projects?
Instagram @theartsparkclassroom
Facebook The Art Spark: A Creative Classroom
What's the cost?
Each morning that you & your tot attends costs $9.00.  Choose the number of classes you would like to attend & complete your purchase by filling out the form below.  Creative Morning Tots can be attended at your convenience anytime.  Classes will be offered throughout the entire school year. Sept-End of May.
Is it okay to just drop-in for a class without a pass?
No. We only prepare enough materials for class-pass holders.  If you would like to try-out a class, you must buy a class-pass. If you decide you would not like to use your class pass, we will refund you for the remaining number of classes.
Is it okay to bring my baby with my toddler to class? 
Absolutely! We have two teachers at Creative Tots to ensure that we can accommodate everyone and assist when necessary.
I have a 18 month old, and a 4 year old can I bring them both to Creative Tots? 
Yes! That is absolutely fine. We are flexible with the ages for this reason!
Please note that we do offer our Creative Explorer program for 3-5 year olds which fosters independence, refines motor skills, and expands to new art materials and techniques!
Where are you located? 
We are located off of Loveland-Madeira Road in Symmes Township. We are next to Corner Coffee Cafe and across from Shady o' Gradys.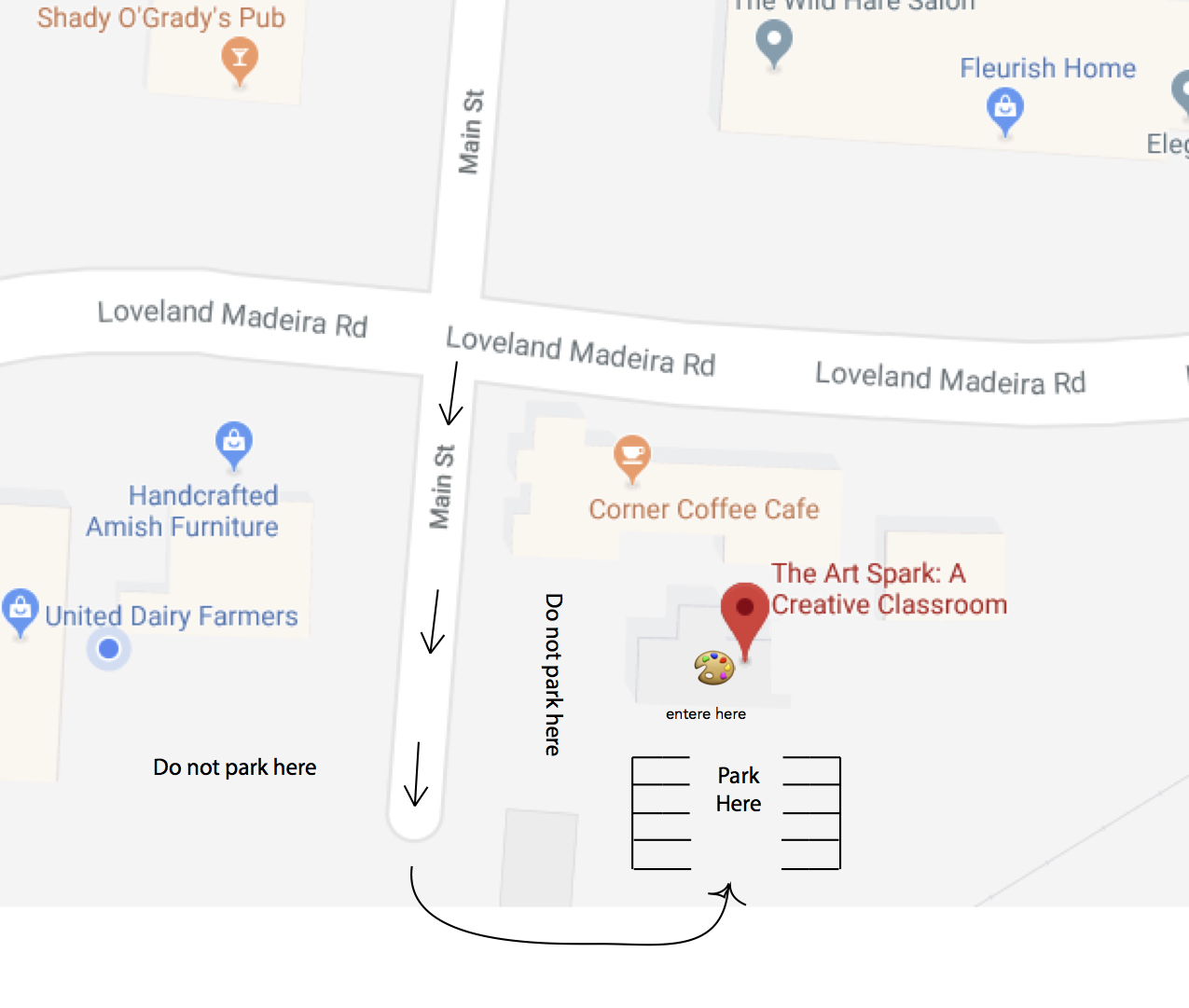 Where do I park? 
Please park in the rear grass lot on the left side of Main Avenue. Please come through the white picket fence. If you park in the Coffee Shop/Antique shop spots we will have to ask you to move.
What age is Creative Tot mornings best for? 
We find that tots who are 18 months is the best age to begin the program.  We understand that tots who are 18 months are likely to be experiencing a class for the first time!  It is okay if they need to walk around, take a break, or even let out some cries. Classes are aimed to toddlers ages 18 months – 3 years. If you are looking for your toddler (ages 3 and up) to be more independent, check out our Creative Explorer class passes. 
NEW
Snack + Play Wednesdays $5 per child
10:45-11:15 AM
We often find that tots simply aren't ready to leave when Creative Tots is over so we have created a Snack + Play Stay option on Wednesdays immediately following Creative Tots! During Snack + Play we will have a snack time proceeded by some fun open play. (You can purchase a snack from us, or bring your own!)
We will also have out a pretend kitchen, water table, a magical treasure chest, blocks, train set, crayons, and a few other items.
NEW
Painting + Pastry Saturdays
10 AM -11 AM
Bring  your tot and the rest of the family for a special book, painting project, juice, coffee, and pastries! Children of all ages are welcome. Cost is $20 per family. You must reserve a spot through the form below.
We will offer Painting + Pastries the following Saturdays from 10 AM -11 AM
Sat, Sept 8th
Sat, Oct 6
Sat, Nov 3
Sat, Dec 1
Our list of books and projects will be up soon…