Grab your toddler (ages 1-3 years) and come on down to Creative Tot Mornings hosted every Monday-Thursday between 10-10:45AM. Creative Tots season runs throughout the school year. Creative Tots will resume the Tuesday after Labor day. Creative Tot Mornings are specifically designed to help your growing toddler explore art for the first time in a variety of different ways. Your child will have the opportunity each class to engage in new and exciting art materials and strengthen fine motor skills such as lifting a paint brush, squeezing, pinching, and sculpting. Our studio offers toddler height tables and chairs, a sink for cleaning up, water tables, toddler size smocks, and just about every art material you can imagine!
What's the format of Creative Tots Mornings? 
Each class is designed to help your child develop an understanding of the world around them. Classes begin with story time. Toddlers and their grownups will listen, watch, and experience a different book or story each week. Following the story, toddlers and their grownups will be presented with activity centers & or projects designed to SPARK imagination & foster growth in your tot.
For example: If we read the book: The Rainbow Fish toddlers would complete their morning by creating different projects and participating in activities:
painting ocean water with different textured paint brushes
blowing bubbles and making their own bubble wands
creating a sand dough that can be rolled, pinched, and sculpted
playing in our large cardboard underwater castle
looking at shells, coral, starfish, and more in our very own touch pond
Where can I see examples of class projects?
Instagram @theartsparkclassroom
Facebook The Art Spark: A Creative Classroom
What's the cost?
Each morning that you & your tot attends costs $8.00.  Choose the number of classes you would like to attend & complete your purchase by filling out the form below.  Creative Morning Tots can be attended at your convenience anytime.  Classes will be offered throughout the entire school year. Sept-End of May.
Is it okay to just drop-in for a class without a pass?
No. We only prepare enough materials for class-pass holders.  If you would like to try-out a class, you must buy a class-pass. If you decide you would not like to use your class pass, we will refund you for the remaining number of classes.
Where do I park? 
Please park in the rear grass lot on the left side of Main Avenue. Please come through the white picket fence. If you park in the Coffee Shop/Antique shop spots we will have to ask you to move.
What age is Creative Tot mornings best for? 
We find that tots who are 18 months is the best age to begin the program.  We understand that tots who are 18 months are likely to be experiencing a class for the first time!  It is okay if they need to walk around, take a break, or even let out some cries. Classes are aimed to toddlers ages 18 months – 3 years. If you are looking for your toddler (ages 3 and up) to be more independent, check out our preschool class passes. 
Schedule of Classes
Dec 20th Join us for our Creative Tots Holiday party. Complete with donuts, juice, fruit, and coffee! We will also have some holiday crafts, & read a few books. Hope to see you there!
Creative Tots program will be CLOSED for Winter Camps/The Holidays Dec 25th-Jan 2, 2018. We will be posting the January + February books shortly.
Please, pay close attention to our January dates. We are closed January 1, 2, 11, & 15th. We are sorry for any inconvenience.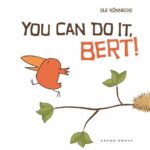 You Can Do It Bert
(Closed January 1, 2) January 3 & 4th
Come explore the joys of being BRAVE with Bert the bird! Tots will create their very own little mini swimming pools and Bert to play with!
Baking with Dad
January 8, 9, & 10 (Closed Thursday)
Tots will put their mixing skills to the test and they combine ingredients to bake-up a very special (salt-dough) art project.
Pet Shop Lullaby
January 16-18 (Closed Martin Luther King Day)
Tots will use a variety of art materials to PAINT a fluffy little hamster to take care of. We will then go around the studio and "take care" of our little pets! What will they need? A water bottle? A hamster ball to run in? Imagination will come alive!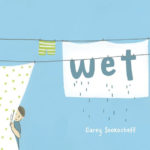 Wet
January 22, 23, 24, 25
Things look and feel different when they are wet and not dry! Sparklers will use wet watercolors and spray bottles to see how water changes the way that they look and work. We will also use straws to blow our wet watercolors around!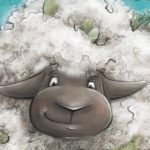 Wally Does NOT Want a Haircut
January 29, 30, 31, & Feb 1
Wally's hair has gotten pretty crazy! Tots will create their very own Wally before practicing their scissor skills and giving him a beautiful haircut! It's about to be a stylish salon at Art Spark!