Grab your toddler (ages 18 months-3 years) and come on down to Creative Tot Mornings hosted every Monday-Friday between 10-10:45AM. Creative Tots season runs throughout the school year. (We offer Summer Camps throughout the summer.)
Creative Tot Mornings are specifically designed to help your growing toddler explore art for the first time in a variety of different ways. Your child will have the opportunity each class to engage in new and exciting art materials and strengthen fine motor skills such as lifting a paint brush, squeezing, pinching, and sculpting. Our studio offers toddler height tables and chairs, a sink for cleaning up, water tables, toddler size smocks, and just about every art material you can imagine! If your tot is now between 3-5 years and you are looking for them to try new materials and continue their artistic growth, check out Creative Explorer program. 
What's the format of Creative Tots Mornings?  Each class is designed to help your child develop an understanding of the world around them. Classes begin with story time. Toddlers and their grownups will listen, watch, and experience a different book or story each week. Following the story, toddlers and their grownups will be presented with activity centers & or projects designed to SPARK imagination & foster growth in your tot. For example: If we read the book: The Rainbow Fish toddlers would complete their morning by creating different projects and participating in activities:
painting ocean water with different textured paint brushes
blowing bubbles and making their own bubble wands
creating a sand dough that can be rolled, pinched, and sculpted
looking at shells, coral, starfish, and more in our very own touch pond
Where can I see examples of class projects? Instagram @theartsparkclassroom Facebook The Art Spark: A Creative Classroom
What's the cost? Each morning that you & your tot attends costs $9.00.  Choose the number of classes you would like to attend & complete your purchase by filling out the form below.  Creative Morning Tots can be attended at your convenience anytime.  Classes will be offered throughout the entire school year. Sept-End of May. All payments must be processed online with form submission. Paying is easily as you can pay with credit card or PayPal.  A $10 fee will be added to checks.
Does my pass roll-over to next year if I don't use it?  No, it does not. All passes must be used up by Friday, May 24th 2019 . Passes that were purchased before June 2018 are no longer valid. 
Is it okay to just drop-in for a class without a pass? No. We only prepare enough materials for class-pass holders.  If you would like to try-out a class, you must buy a class-pass. If you decide you would not like to use your class pass, we will refund you for the remaining number of classes.
Is it okay to bring my baby with my toddler to class?  Absolutely! We have two teachers at Creative Tots to ensure that we can accommodate everyone and assist when necessary.
I have a 18 month old, and a 4 year old can I bring them both to Creative Tots?  Yes! That is absolutely fine. We are flexible with the ages for this reason! Please note that we do offer our Creative Explorer program for 3-5 year olds which fosters independence, refines motor skills, and expands to new art materials and techniques!
Where are you located?  We are located off of Loveland-Madeira Road in Symmes Township. We are next to Corner Coffee Cafe and across from Shady o' Gradys.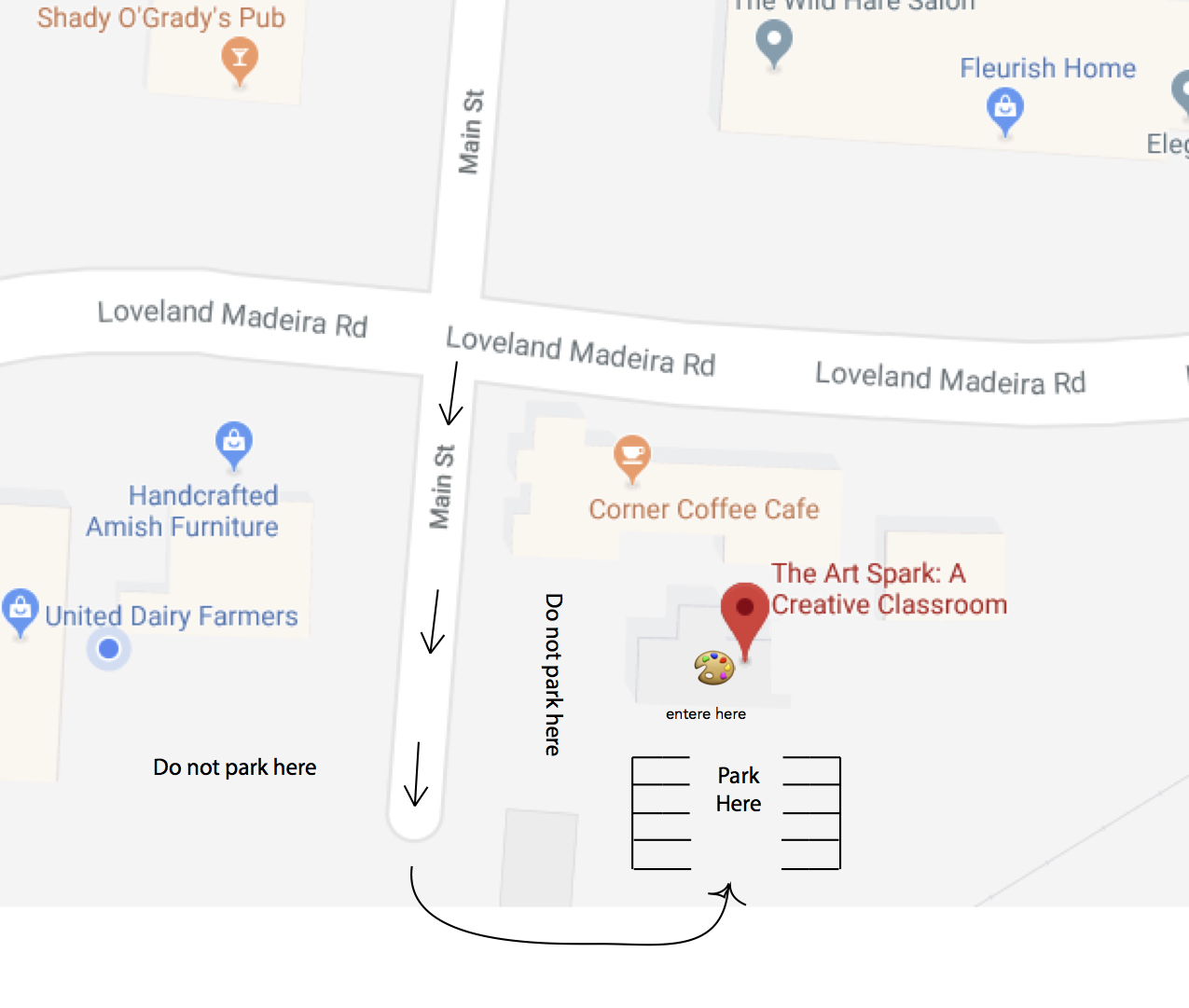 Where do I park?  Please park in the rear grass lot on the left side of Main Avenue. Please come through the white picket fence. If you park in the Coffee Shop/Antique shop spots we will have to ask you to move.
What age is Creative Tot mornings best for?  We find that tots who are 18 months is the best age to begin the program.  We understand that tots who are 18 months are likely to be experiencing a class for the first time!  It is okay if they need to walk around, take a break, or even let out some cries. Classes are aimed to toddlers ages 18 months – 3 years. If you are looking for your toddler (ages 3 and up) to be more independent, check out our Creative Explorer class passes. 
NEW Snack + Play Wednesdays $5 per child 10:45-11:30 AM We often find that tots simply aren't ready to leave when Creative Tots is over so we have created a Snack + Play Stay option on Wednesdays immediately following Creative Tots! During Snack + Play we will have a snack time proceeded by some fun open play. (You can purchase a snack from us, or bring your own!) We will also have out a pretend kitchen, water table, a magical treasure chest, blocks, train set, crayons, and a few other items.
Painting + Pastry Saturdays (one Saturday a month during school year) 10 AM -11 AM Bring  your tot and the rest of the family for a special book, painting project, juice, coffee, and pastries! Children of all ages (18 months +) are welcome to participate. Cost is $5 per family member. You must reserve a spot through the form below. We will offer Painting + Pastries the following Saturdays from 10 AM -11 AM
Saturday, Feb 2 FULL
10 AM-11 AM 
I Love You For You
During this Valentine's Day edition of Painting and Pastries, we will read the book, I Love You For You. This sweet book is written by local author & creative tots mom, Heather Lester! We will then create Valentines using a variety of art materials. (Stamps, stickers, paint, and more!)
Saturday, Mar 2
10 AM-11 AM 
Beachy and Me
We will read the delightful story of a girl who becomes friends with a whale! We will paint a scene from the story using multiple materials, where Beachy promises to always return to see Pixie.
Saturday, April 6
10-11 AM
Green Eggs and Ham
We will read the classic Dr. Seuss story, Green Eggs and Ham for this edition of painting and pastries! We will sculpt our very own green eggs and then create a plate of fun foods.
 Saturday, May 4
10-11 AM 
Not a Box
We will read the imaginative and inspiring book, "Not a Box" before transforming something ordinary into a rocket ship in outer space!
Upcoming books in Creative Tots…
Wednesday February 13th we will be having a Creative Tot and Explorer Valentine's Day Party from 10-10:45. We will have fun Valentine's Day art projects, games, and snacks!*
I Love You for You 
Monday-Friday (Wednesday will be a Valentine's Day Party  Feb 11, 12, 14,15
During this class we will read a very special book by a local author. We will then make sweet Valentine's puppy puppets using cut paper, googlie eyes, and pom poms!
One Mitten by Christine O'Connell George
Monday, Tuesday February 18, 19
Tots will read this special book about a girl who finds new ways to use her yellow mittens! We will then create our own mitten by tracing around our fingers and thumb. Our grown ups will help by cutting out our tracing and then it will be time to decorate! We will first paint our mitten a solid color and then add dots of color using Q-Tips! At the end we will use our gluing skills to add a gem decoration to the mitten.
Tea With Grandpa by Barney Saltzberg
Wednesday, Thursday, Friday February 20, 21, 22
This book is all about having a fun tea party whenever grandpa comes to visit! Tots will make their very own mini tea cups by creating a Model Magic pinch pot with a coil rolled handle! After we create our tea cups we will then decorate a paper plate (which will serve as our saucer) by using glitter and glue!
Peek-A-Book by Lee Wardlaw
Monday, Tuesday February 25, 26
As we read through this fun peek-a-boo adventure, Tots will spot a jumpy green friend…that's right a frog! We will get inspired to make our own little frog complete with a lily pad to sit on. Sparklers will use paint and a frog cut-out to make a silhouette of a little frog.  We will then practice mixing up the color green to paint it in!  A paper plate is the perfect shape to make a lily pad, complete with a pink tissue paper flower. Tots will see the art of resist painting as we draw with oil pastel and paint with watercolors to turn our lily pad green!

Sheep In a Shop by Nancy Shaw
Wednesday, Thursday, Friday February 27, 28, March 1
Tots will get to make a triple tiered birthday cake inspired from this sweet story about sheep preparing for a birthday party! Each Tot will receive three different size sheets of paper that we will decorate using puffy paint, glitter glue and paint! We will then glue the papers on top of one another to create a magnificent cake!  At the end we will frost our cake using a special fluffy mixture and add glitter sprinkles!
Ten Twinkly Stars by Russell Julian
Monday, Tuesday March 4, 5
This special goodnight book will teach Tots not only about counting but, also about where different animals live! One of these animals is the giraffe! After our book tots will paint a paper towel tube bright yellow and then we will add big spots with a pom pom stamp! This will be our giraffe's tall neck which we will then add a cut paper head complete with eyes and horns! We can't wait to see how they turn out!
The Opposite Zoo by Sung Na
Wednesday, Thursday, Friday March 6,7,8
Tots will read this silly opposites book and discover a very colorful bird on one of the pages: a peacock! We will use one half of a paper plate to create our peacock's beautiful feather as well as watercolor and salt! The body of our peacock will be made from a toilet paper tube that we paint!
Bark Park by Trudy Krisher
Monday, Tuesday March 11, 12
During this class we will take a pretend trip to the dog park! Each Tot will get to paint (paint mixed with shaving cream)  their very own puppy paper cut out using a very special tool- a fork! This will create the texture of fur! We will add a pom pom nose, googlie yes, and a special beaded collar for our furry friend!
If You Give a Moose a Muffin by Laura Numeroff
Wednesday, Thursday, Friday March 13, 14, 15
Tots will mix up a special salt dough recipe all together as we get inspired from our book! We will then "bake" our salt dough into special muffins that we will then paint!
More books coming…