Sparkler's Night Out is an opportunity for your child (ages 5 & up) to spend 3 whole hours SPARKING imagination creating:
one 2-D take home project
one 3-D take home project
the most important art material: pizza
While YOU can have a night on the town, or sit at home & relax!
How much does Sparklers' Night out cost? 
$35 per child
$45 per child for our 9-12 y/o Sparkler's Night Out
What age range is Sparklers' Night Out for?
5-9 y/o
+ NEW THIS FALL 9-12 y/o nights will be featured as well
How do I enroll?
Enroll on the form below on this page. When you hit, "continue" it will take you to payment options. You can pay via credit card or Paypal
Is anything else served with the pizza?
Strawberries, carrots & ranch, and juice or water. Dinner is served at 6:45 PM.  If you would rather pack a dinner, that is fine! Please indicate you will do so on the form below.
How do I enroll my child for a Sparklers' Night out?
Please fill out the form below. Payment options will be provided when you hit, "Continue." You may pay by check or via PayPal.
Where do I enter into the building?
Please park in the grass lot in the back of the building. Come through the white picket fence.  You can enter our studio through the teal doors.  The stairway entrance is closed.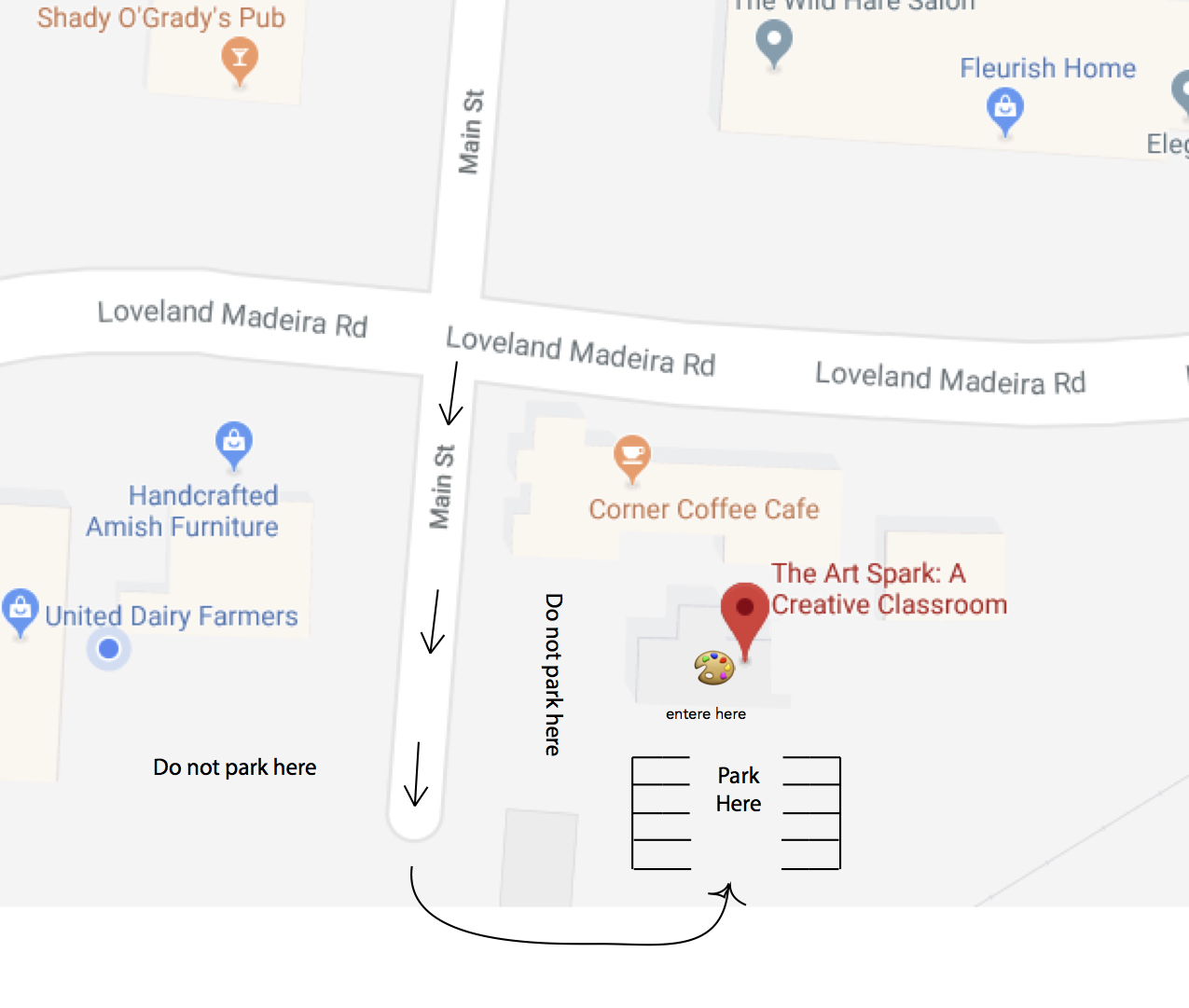 What dates is Sparklers' Night out & what is the theme of each?
Back to School SWAG! SOLD OUT
Friday, Sept. 7 6-9 PM
Ages 5-9 years
$35 per child
It's always sad when summer ends, but nothing is more exciting than starting a fresh school year with some new SWAG! We will work to create customized keychains, pen & pencil holders, and decorative pens from our imagination.
Stamped Tote Bags 
Friday, Sept 28 6-9 PM 
Ages 9-12 years
$45 per child 
During our first pre-teen Sparklers Night Out we will work to design our very own tote bags using some fun printmaking techniques. We will work hard to create a stamp that can be repeated on our tote to make a fun & intricate pattern. We will also consider other ways to enhance and embellish our bags to make them completely customized!
It's Glowing Down! 
Saturday, Oct 20 5-8 PM 
Ages 6-9 years 
$40 per child 
Join us for a very special Glow in the Dark Halloween Party! We will be painting mini pumpkins with Glow in the Dark paint and making Glow-in-the-dark slime!
Pumpkin Patch Palooza
Friday, Oct 26 6-9 PM 
Ages 5-9 years 
$35 per child 
Sparklers will arrive to see an amazing pumpkin patch in The Art Spark yard to paint however they imagine! We will then work to create some ghost goo! (SLIME)
Unicorn Rainbow Party
Friday, Nov 9 6-9 PM 
Ages 5-9 years 
$35 per child 
Sparklers will work to sculpt their very own unique unicorn horns to attach to a headband. What else will they need? Ears? A Mane? We will then work to create our very own unicorn inspired paintings with watercolor. Will we want to paint a unicorn on a rainbow? A unicorn by a waterfall? It's up to the Sparklers to decide the beautiful painting they will create!
Sensational Snowflakes
Friday, Dec 7 6-9 PM 
Ages 5-9 years 
$35 per child
There's something so magical about the first snowfall! Sparklers will work with a variety of different art materials to create textured snowy paintings. We will then practice cutting snowflakes, and finish by making some fun SNOW dough!
Santa's Helpers 
Friday, Dec 14 6-9 PM 
Ages 5-9 years 
$35 per child 
What kinds of gifts would you like to make for your family this season? That will be the question we focus on during this Sparkler's Night Out! Once we come up with a plan, we will create some gifts from the heart that we wrap and attach cards to. Hopefully we can keep our gifts a surprise! 🙂
NEW **SPARKLER'S DAY OUT**
Looking for something fun to do on those random Mondays and Fridays off from school? Search no more! We are offering Sparkler's Day off on teacher in service days and national holidays so your kids have something fun to experience on their days off!
Fall Festival Fun!
Monday, Oct 15 1-3 PM
Ages 5-9 years
$30
Halloween Workshop
Friday, Oct 26 1-3 PM
Ages 5-9 years
$30

SaveSave