Sparkler's Night Out is an opportunity for your child (ages 5 & up) to spend 3 whole hours SPARKING imagination creating:
one 2-D take home project
one 3-D take home project
the most important art material: pizza
While YOU can have a night on the town, or sit at home & relax!
How much does Sparklers' Night out cost?  $35 per child $45 per child for our 9-12 y/o Sparkler's Night Out
What age range is Sparklers' Night Out for? It depends on the event, but most are 5-9 y/o + NEW THIS FALL 9-12 y/o nights will be featured as well
How do I enroll? Enroll on the form below on this page. When you hit, "continue" it will take you to payment options. You can pay via credit card or Paypal
Is anything else served with the pizza? Strawberries, carrots & ranch, and juice or water. Dinner is served at 6:45 PM.  If you would rather pack a dinner, that is fine! Please indicate you will do so on the form below.
How do I enroll my child for a Sparklers' Night out? Please fill out the form below. Payment options will be provided when you hit, "Continue." You may pay by check or via PayPal.
Where do I enter into the building? Please park in the grass lot in the back of the building. Come through the white picket fence.  You can enter our studio through the teal doors.  The stairway entrance is closed.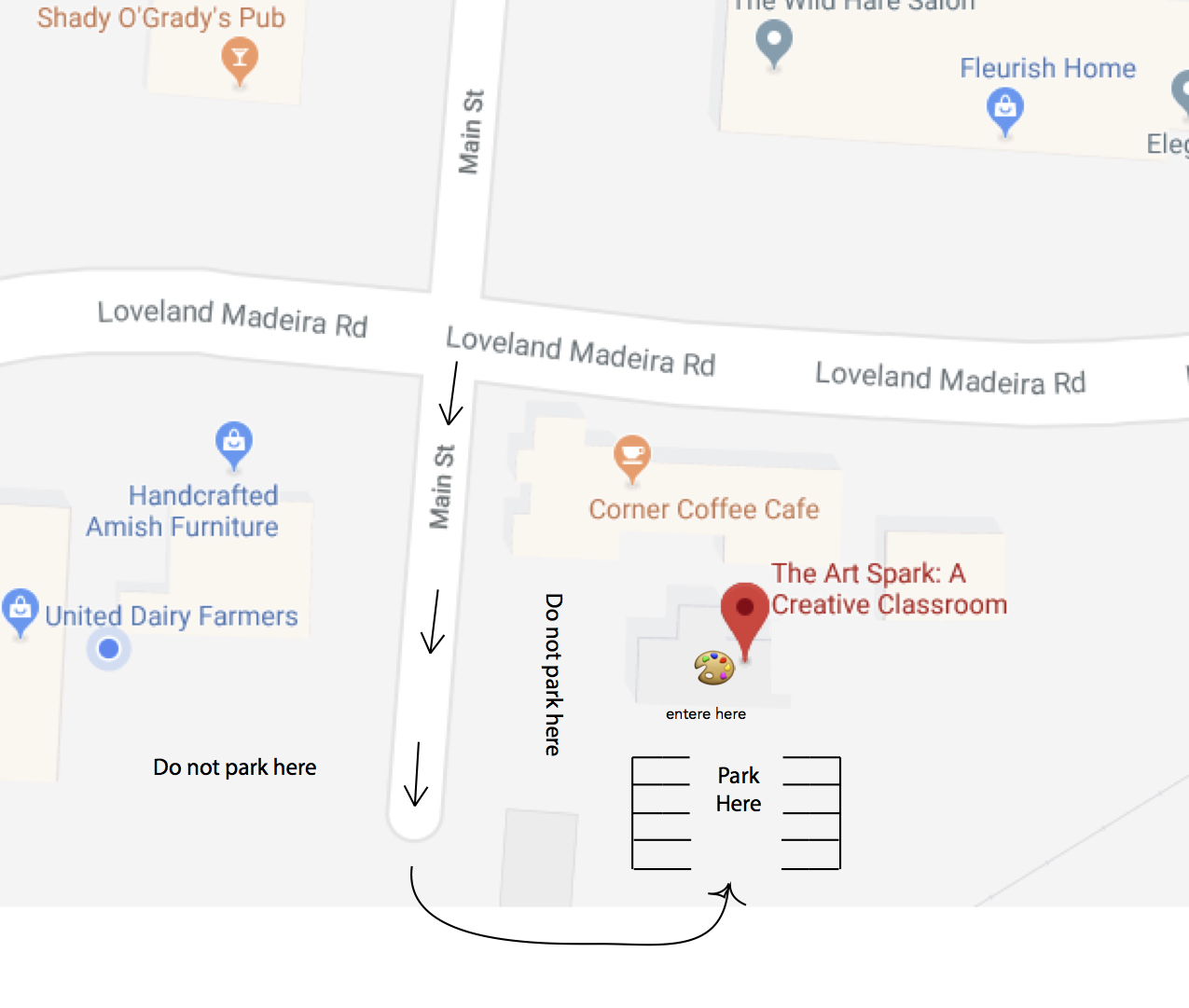 What dates is Sparklers' Night/Day out & what is the theme of each?
Unicorn Rainbow Party SOLD OUT Friday, Nov 9 6-9 PM  Ages 5-9 years  $35 per child 
Sparklers will work to sculpt their very own unique unicorn horns to attach to a headband. What else will they need? Ears? A Mane? We will then work to create our very own unicorn inspired paintings with watercolor. Will we want to paint a unicorn on a rainbow? A unicorn by a waterfall? It's up to the Sparklers to decide the beautiful painting they will create!
Sensational Snowflakes Friday, Dec 7 6-9 PM  Ages 5-9 years  $35 per child
There's something so magical about the first snowfall! Sparklers will work with a variety of different art materials to create textured snowy paintings. We will then practice cutting snowflakes, and finish by making some fun SNOW dough!
Gingerbread House Makers Saturday, Dec 8 10 AM – 12:30 Ages 6-10 years $40 per child
Sparklers will imagine and customize their very own gingerbread house! We will use frosting, colorful candies, and create sculptures to embellish our houses.  After we finish our houses we will enjoy a pizza lunch!
Santa's Helpers  Friday, Dec 14 6-9 PM  Ages 5-9 years  $35 per child SOLD OUT 
What kinds of gifts would you like to make for your family this season? That will be the question we focus on during this Sparkler's Night Out! Once we come up with a plan, we will create some gifts from the heart that we wrap and attach cards to. Hopefully we can keep our gifts a surprise! 🙂
SaveSave