The Art Spark is closed through April 6th due to the Corona Virus.
Our hope is to open again on April 7th. We know many of you will be at home with your children due to the school closures and will be posting weekly craft videos to do at home on our website. We will also post links to where you can order the products needed to replicate the project should you need any of the materials. We will be posting these fun DIY's on our Facebook Page.
Sparkler's Night Out is an opportunity for your child (ages 5 & up) to spend 2.5 whole hours SPARKING imagination creating:
one 2-D take home project
one 3-D take home project
the most important art material: pizza
While YOU can have a night on the town, or sit at home & relax!
How much does Sparklers' Night out cost?  $30-$35 per child
What age range is Sparklers' Night Out for? It depends on the event, some are 5-9 yrs. and other are for 9-12 yrs.
How do I enroll? Enroll on the form below on this page. When you hit, "continue" it will take you to payment options. You can pay via credit card or Paypal
Is anything else served with the pizza? Strawberries, carrots & ranch, and juice or water.
Dinner is served at 6:30 PM.  If you would rather pack a dinner, that is fine! Please indicate you will do so on the form below.
How do I enroll my child for a Sparklers' Night out? Please fill out the form below. Payment options will be provided when you hit, "Continue." You may pay by check or via PayPal.
Where do I enter into the building? Please park in the grass lot in the back of the building. Come through the white picket fence.  You can enter our studio through the teal doors.  The stairway entrance is closed.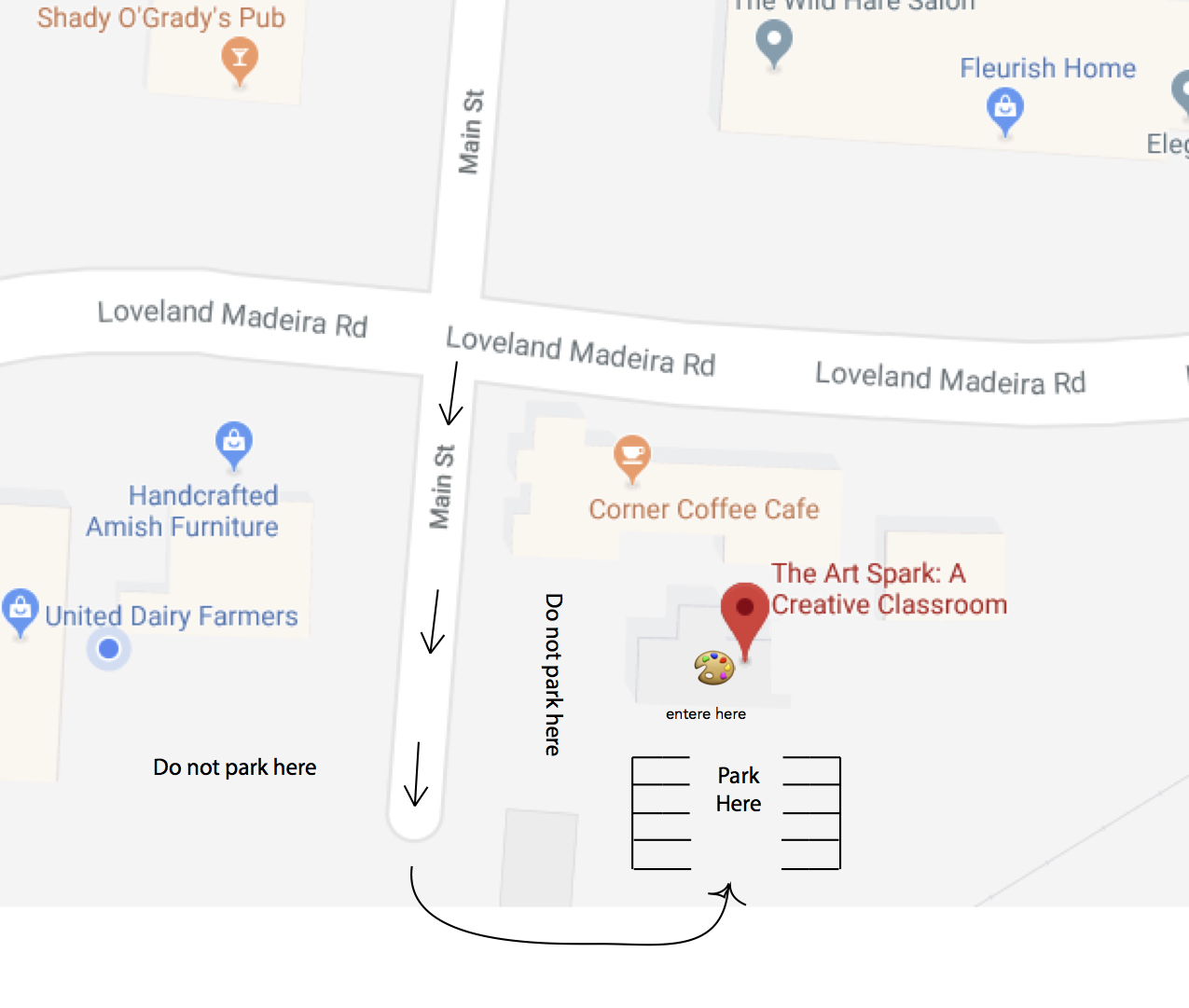 What dates are Sparklers' Night/Day out & what is the theme of each?$35
September
The Great Art Spark Bake Off NOW FULL 
September 20
Ages: 5-9 yrs.
6:00 PM-8:30 PM
$30
"Bakers" will be a given a special recipe that they will work diligently to follow!  Each contestant will then decorate their special "dessert" to impress the Art Spark judges (Art Spark instructors). In the end each contestant is a winner and will get a star award wand that they will get to bedazzle in their own special fashion.
Interior Decorators
September 27
Ages: 9-12 yrs.
6:00 PM- 8:30 PM
$35
Keep your room on trend by coming to this Sparkler Night Out where we will paint a terra-cotta pot and plant a fun succulent inside! We will also create cute throw pillow!
October
Apple Pickers NOW FULL 
October 11
Ages: 5-9 yrs.
6:00 PM-8:30 PM
$30
Sparklers will get to use their mixing skills to whip up an apple pie scented play dough using delicious spices and red food coloring. The night won't be over yet, as we will get to make a special painting using cut apple slices as our painting tools!
Halloween Glow Party NOW FULL 
October 18
Ages: 5-9 yrs.
6:00 PM-8:30 PM
$30
It's going to be a spooktacular night here at The Art Spark! Our studio will be fully set up for us to create projects that can really glow (we have a large collection of black lights). Sparklers will get to decorate their very own pumpkin using glow in the dark art materials! We will also get to create our very own glow in the dark masks!
GLOW Trick or Treat Workshop
October 25
Ages: 9-12 yrs.
6:00 PM-8:30 PM
$35
Halloween is sure to be fun when you have your own DIY neon glow painted treat bag! Advanced sparklers will work to create a brightly patterned bag that can actually glow in the dark! We will also create a special glow mask perfect for any Halloween costume!
November
Fantastical Fall Frenzy NOW FULL 
November 8
Ages: 5-9 yrs.
6:00 PM-8:30 PM
$30
Sparklers will make a beautiful glowing luminary using craft leaves, Mod Podge, and jars. We will then put a small tea light inside. We will also make beautiful rainbow leaf prints!
Slime Time NOW FULL 
November 15
Ages: 7-9 yrs.
6:00 PM-8:30 PM
$30
What screams fall more than the sweet smell of cinnamon? Sparklers will get to mix up an aromatic batch of cinnamon sparkle slime with shrinky dink leaves hidden inside as well as a glittering gold slime that mimics the colors of the season!
Leaf Dishes and Cinnamon Slime
November 22
Ages: 9-12 yrs.
6:00 PM-8:30 PM
$35
Advanced sparklers will use beautiful fall leaves and imprint them on white Model Magic to make special little autumn dishes!  We will also be whipping up a batch of cinnamon sparkle slime!
December
Handart Snowmen on Canvas NOW FULL 
December 6
Ages: 5-9 yrs.
6:00 PM-8:30 PM
$30
Brrrrr…. It's getting very chilly outside! The perfect time to make a special snowmen.  We will stamp our handprint in white against a painted blue sky on canvas and will turn each finger into a member of a snowman family!
Stuffed DIY Elves
December 13
Ages: 5-9 yrs.
6:00 PM-8:30 PM
$30
Everybody loves an Elf on the Shelf in their house! How about one that you create and design all on your own? We will make an elf of ourselves made from felt, pom poms, stuffing, and fabric! We can't' wait to see these elves come to life!
Cocoa Marbled Mugs
December 20
Ages: 9-12 yrs.
6:00 PM-8:30 PM
$35
Advanced Sparklers will get to warm up with a special mug and hot cocoa during this Sparkler Night Out! We will learn how to use nail polish and water to create a marbleized effect on our mugs as well as build a homemade dry cocoa mix!
January
Playful Penguin Clay Pictures NOW FULL 
January 10
Ages: 5-9 yrs.
6:00 PM-8:30 PM
$30
Sparklers will learn how to make cute little penguins using paint and clay during this Sparkler Night Out! We will also create a special way to hang our wintery scene using pipe cleaners and beads!
Winter Canvas Paintings
January 24
Ages: 5-9 yrs.
6:00 PM-8:30 PM
$30
Each Sparkler will receive a canvas to create a gorgeous winter canvas painting! We will talk about what to include in a winter scene-including snowmen, igloos, the northern lights and much more!  They can hang these special paintings at home as they are sure to be a masterpiece! We will also learn how to cut intricate snowflakes!
February
Snow Dough and Icicle Banners NOW FULL
February 7
Ages: 5-9 yrs.
6:00 PM-8:30 PM
$30
Sparklers will enjoy some frosty fun as they mix up some cool and sparkly snow dough. We will also glitterize our own gorgeous foil icicles and hang them on a special banner to make the perfect winter decoration.
Valentine Valley NOW FULL 
February 14
Ages: 5-9 yrs.
6:00 PM-8:30 PM
$30
Valentine Valley is filled with the sweetest trees! Sparklers will craft a tree covered with multicolored heart shaped leaves. These tress will need some glitter and garland and they will make the perfect valentine centerpiece. And of course some special valentine cards will complete this heart filled evening.
President's Day Sparklers Day Out:Textured Canvas Paintings
Feb 17, 2020
Ages 5-9 years
1:00-3:30
$25
Sparklers will use a wide array of art materials to create a layered, textured painting! We will use q-tips, tape, stamping techniques, glitter glue, and more to create an abstract masterpiece. (No pizza served at this event.)
March
Leprechaun Magic CANCELLED
March 13
Ages: 5-9 yrs.
6:00 PM-8:30 PM
$30
It's time to find that magical treasure that awaits us at the end of the rainbow: a pot of shiny gold coins! But, wait a sneaky little leprechaun has run off with the Sparkler's gold! We will work hard to build the perfect leprechaun trap to capture these silly characters! We will use paint, pom poms, gems, tissue paper and so much more to catch them!
Rainbow Candy Skittle Experiment and Model Magic Lollipops CANCELLED 
March 20
Ages: 5-9 yrs.
6:00 PM-8:30 PM
$30
Taste the rainbow at The Art Spark studio during this special rainbow themed Sparkler Night Out! We will watch what happens when warm water is added to Skittles candy. Something magical will begin to occur! You'll have to attend to see the neat results. We will also be creating a magical rainbow lollipop made out of Model Magic!
April
Ice Cream Shop: Edible Playdough CANCELLED
April 3
Ages: 5-9 yrs.
6:00 PM- 8:30 PM
$30
Ice scream, you scream, we all scream for ice cream!!! We can't wait to mix up some batches of this fabulous edible play dough, made from two ingredients: powdered sugar and frosting! We will mix up different flavors and will mold them into the sweetest desserts you've ever seen!
Gorgeous Flower Prints and Pots
April 17
Ages: 5-9 yrs.
6:00 PM-8:30 PM
$30
April is the month when pansies are in full bloom. Using these beautiful flowers we will print them on fabric using a plastic hammer and our strong muscles. These prints turn out so beautifully! We will also plant a seed in a pot and get to paint our pots as well!
May
May the Force Be With You Galaxy Jars
May 1
Ages: 5-9 yrs.
6:00 PM- 8:30 PM
$30
We know we have some Star Wars fans amongst our sparklers and wanted to offer an out of this world project to them! We will use a glass mason jar, cotton balls, paint, glitter, and water to make the coolest galaxies you've ever seen!
Shrinky-Dink Key Chains
May 8
Ages: 5-9 yrs.
6:00 PM- 8:30 PM
$30
How much fun is a cool key chain? Sparklers will get to use shrinky-dinks, colored pencils, gems, and sequins to create several bright and creative key chains! We will also make lanyards using a variety of materials! We can't wait to get started.
Rainbow Pom Pom Chandelier
May 15
Ages: 9-12 yrs.
6:00 PM-8:30 PM
$35
Who would have thought making giant pom poms was so easy! Advanced sparklers will create a beautiful chandelier using cut yarn as a way to make giant fuzzy and soft pom poms in a multitude of colors!
SaveSave