The Art Spark studio is open and will have Sparklers Night Out again this FALL!
We have countless procedures in place:
Small class sizes
Social Distancing
Handwashing upon arrival and before and after eating, as well as at pick-up
Individual (non-shared) art materials that are sanitized
Masks required for children when Hamilton county is categorized LEVEL 3 or when there is a state order in place.
Temperature will be taken at the door
Sparkler's Night Out is an opportunity for your child (ages 5 & up) to spend 2.5 whole hours SPARKING imagination creating:
one 2-D take home project
one 3-D take home project
the most important art material: pizza
While YOU can have a night on the town, or sit at home & relax!
How much does Sparklers' Night out cost?  $30-$35 per child
What age range is Sparklers' Night Out for? It depends on the event, some are 5-9 yrs. and other are for 9-12 yrs.
How do I enroll? Enroll on the form below on this page. When you hit, "continue" it will take you to payment options. You can pay via credit card or Paypal
Is anything else served with the pizza? Strawberries, carrots & ranch, and juice or water.
Dinner is served at 6:30 PM.  If you would rather pack a dinner, that is fine! Please indicate you will do so on the form below.
How do I enroll my child for a Sparklers' Night out? Please fill out the form below. Payment options will be provided when you hit, "Continue." You may pay by check or via PayPal.
Where do I enter into the building? Please park in the grass lot in the back of the building. Come through the white picket fence.  You can enter our studio through the teal doors.  The stairway entrance is closed.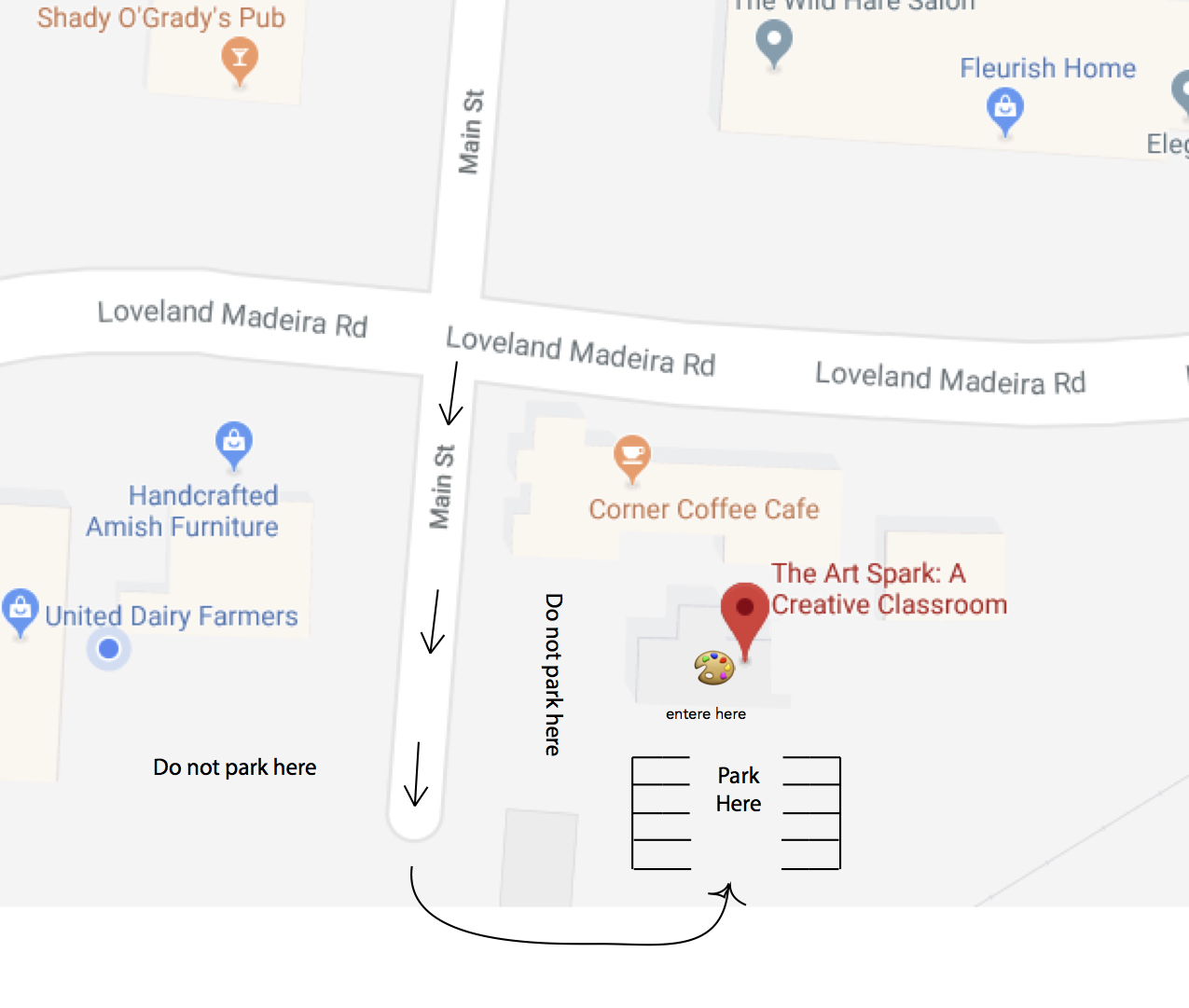 What dates are Sparklers' Night/Day out & what is the theme of each?
Sept 11
Ages 6-10 years
6-8:30 PM 
GLOW Rainbow Scratch Art! 
Sparklers will learn how to make their very own amazing scratch art paper! They will then draw amazing designs in our glow room on their special paper.
Sept 18
Ages 6-10 years
6-8:30 PM
Dream Catchers
 Sparklers will embellish and create beautiful dream catchers! Sparklers will learn how to create pom poms as well as craft other decorations to make their very own unique Dream Catcher.
Sept 25
Ages 6-10 years
6-8:30 PM
UFO Art
Sparklers will imagine they see a UFO with an alien flying around! They will then create their very own UFO and create drawings of the planets their alien friend is from!
Oct 2 
Ages 6-10 years 
6-8:30 PM 
Horse & Unicorn Riders
Giddy-up! Let's work to create a horse or unicorn head that can be ridden around town! Sparklers will use fabric, yarn, and more to create their very own stuffed animal head to be attached to a long dow rod to make this classic toy!
Oct 9
Ages 6-10 years
6-8:30 PM
Candy Haunted Houses! 
Sparklers will make their very own Haunted House out of Candy and Sweets.  (Think gingerbread house, but Haunted Houses instead!) What will we need? Candy Corn? Ghost peeps? A Skeleton made out of white airheads? The possibilities are endless and tasty! Each child will have their own house and candy bags/frosting to assemble with so no cross contamination happens.
Oct 16
Ages 6-10 years 
6-8:30
Pumpkin Painting and Skeleton Slime
Sparklers will get to paint and embellish their very own pumpkin before making a fun type of Skeleton Slime!
SPECIAL SPARKLER'S DAY OUT: Park and Paint
October 3rd
All Ages Welcome
10:00-11:30 AM
Family Pumpkin Painting + Halloween Treats
$8 per pumpkin painting participant
*Weather dependent, if it rains we will re-schedule!
Come join us for our first Park and Paint! Our family friendly event will be held in the parking lot of the Art Spark. Bring a picnic blanket/ old blanket (one that can get a little messy, as you and your family will be painting pumpkins on it) and chairs (optional). Families can come pick pumpkins to paint from our Art Spark pumpkin patch upon arrival. We will bring you different colors of paint and painting tools to decorate your pumpkins to your heart's delight. All family members are welcome to paint a pumpkin, just put how many pumpkins you will need on our form! We will be selling Halloween donuts and coffee as well!  This is an outdoor event where we will be socially distanced, hand sanitizer will be available, and masks are required (for adults and children over 5)  when picking out pumpkins and purchasing donuts and coffee. You are welcome to take masks off when at your own spot by your car!
SaveSave