Spring Break  Camps at The Art Spark are a special opportunity for your child to explore, create, brainstorm, and build during their winter break!  We will be only be offering camps for 5-9 year olds for Spring Break.  Each day offers a fresh new camp, with a different theme to stimulate imagination and foster your child's development.
Where are Spring Break camps located? 
All Spring Break camps are located at our 9430 Main Avenue studio. When finding our studio, we have found it works best to use google maps. We are in Symmes Township next to Corner Coffee Cafe! (Right off Loveland Madeira Road)
The Art Spark is located on Main, right next door to The Corner Coffee Cafe + Antique Peddlers. (Shown below.)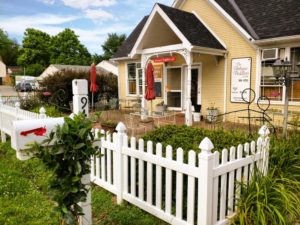 How do I enroll for camp?
Scroll to the bottom of this page to find the enrollment form for all winter camps.
What is the cost? 
Each camp is from 9-Noon and costs $35-$40 depending on material cost. Camps are sold separately.


What should my child wear/bring?
Wear: All children should wear clothes that they can get messy in. We may be mixing up slime one minute, and painting with our hands and feet the next!  We use a variety of materials and cannot guarantee that they will wash out.
Bring: All children should bring a snack and drink to camp. We will be taking a break halfway through camp to chat, relax, and eat a snack.
When can I drop off/pick up my child?
Doors open for camp 5 minutes before camp starts. Please pick your child(ren) promptly at the end time of his/her camp. Please call us to let us know if you will be late: 513-936-8333. Should you be later than 15 minutes late, a $10 late fee will be applied.
What does a day at spring break camp look like? 
Each camp we will begin by discussing the theme of that day of camp. We may watch a short video, look a pictures, or read a book together to help us develop a deeper understanding of the theme. Once we have acquainted ourselves with the theme, we will brainstorm different ways to create around the theme. We may be using paint, clay, recyclables, shrinky dinks, model magic, oil pastels, watercolors, and just about any craft item imaginable! Projects will be guided by the students' ideas and creativity. Children will create 1-3 projects at camp each day. Some projects may be created as a team.
When will I receive an e-mail with camp details? 
You will receive an e-mail with details for your camp the day before camp.
Tea Party 
Date: Monday, April 2, 2018
Time: 9-NOON
Ages 5-9 years
Cost: $35 per camper
What all is needed for a successful tea party? Beautifully painted teacups? A tablecloth with hand drawn flowers? Pretend baked goods made out of salt dough? Sparklers will work throughout camp to design their dream Tea Party before ending camp with a real Tea Party!
Garden Growers 
Date: Tuesday, April 3, 2018
Time: 9-NOON
Ages: 5-9 years
Cost: $40 per camper
What does it take to grow a beautiful garden? Campers will pot and plant a few flowers! We will then try different painting techniques to decorate our pots! What else will we need when gardening? A decorative gnome sculpture? Sunglasses to protect our eyes? A koi fish pond? It's up to the Sparklers' to decide!
Clay Zoo
Date: Thursday, April 5, 2018
Time: 9-Noon
Ages: 5-9 years
Cost: $40
Sparklers will practice their clay hand building techniques as they slip, score, roll, and sculpt animals for a miniature clay zoo! Once we have created our animals we will plan the rest of each exhibit. What will the animals need? A pond to swim in? Safari scenery? What food do they need to eat? By the end of camp we will each set up our exhibits to showcase a mini clay zoo!
Chef Creations
Date: Friday, April 6, 2018
Time: 9-Noon
Ages: 5-9 years
Cost: $35
Calling all chefs! A new restaurant is opening by the end of camp–and it's up to the Sparklers to sculpt, draw, paint, and create the food options! What foods will we serve? Will we need to create fancy aprons and chef hats? Sparklers will be working hard to open our restaurant by the end of camp!