Summer Camp Enrollment for 2019 will be up late Fall 2018!
Here is some information from last years camp!
Camp Descriptions
Our summer camp schedule for 2018 is now available! Enrolling and payment is easy on this page!  (Scroll down for the enrollment form. The form is also on each camp description page.) We will be offering camps for 3-4 year olds, 4-5 year olds, 5-9 year olds, 6-9 year olds and 9-12 year olds.   Below you will find F.A.Q. about camp and links to see our camp schedules.
Wondering what we do at camp?
Summer camp at The Art Spark begins with your child learning the amazing process of silk-screen printmaking to design their very own t-shirt. This shirt will be your child's art smock that they wear throughout the week!  Children create projects both independently and as a team while at summer camp. They work together to brainstorm ideas and ignite imagination centered around an idea.  Sparklers will work with a variety of art materials including: paint, clay, markers, watercolors, crayons, beads, jewels, plaster, pipe cleaners, fabric, watercolors, paper mache and so much more!  Sparklers will have projects to take home, and projects we created as a team at the end of each camp.
How long is one camp?
Each camp is one week long. Monday-Friday from 9-Noon, 1-4 PM, or you can sign your child up for a full day from 9 AM – 4 PM. (With the exception of our shortened week: July 2&3. We are closed July 4-6)
How much does one camp cost and how do I pay?
-Camp cost varies from $158-$175 depending on materials used in camp. (Monday-Friday/9-Noon OR Monday-Friday/1-4 PM)
-The week of Independence day is discounted due to the shortness of the week.
-Full day camps are $350 for the week (Monday-Friday 9AM-4PM)
-All camp costs will increase $25 per child, per camp on April 2, 2018.
Questions & Answers
How do I sign my child up?
In order to secure a spot for summer camp, you must enroll your child through our website. Scroll down this page to view and fill out the form. Once the form is complete it will show you Payment options at Paypal. It is not necessary to set up a Paypal account—you can use guest checkout and use a credit card. If you do not submit payment with the form immediately, please e-mail us (create@theartspark.com) with information on your payment method.  Payment submitted as checks will be charged an additional $15 convenience fee.  Forms submitted without payment are deleted within 10 days.
If you do not have a paypal account, do not fear! You can easily use a credit card as well and check out as a guest. Just select the option circled in pink when you are prompted:

Once I enroll my child, what will I hear from you?
We will send an enrollment confirmation, with your form attached.
A few days before your child attends camp, we will send an e-mail reminding you of camp details. The details are also all listed below.
Where are the camps located?
*NEW*
All camps will be held at our studio:

The Art Spark
9430 Main Avenue
Cincinnati, OH 45242
How do I get t your location at 9430 Main Avenue?
When you come here for the first time, please use a GPS and plug in The Art Spark 9430 Main Avenue 45242.  It may autocorrect avenue to street, but you still must put avenue in order for your GPS to take you to the correct location. The sign outside says, Main Street, but the GPS will only find us if you type in Avenue.  *We are located next to Corner Coffee Cafe and across the street from Shady O'Gradys. When you arrive, go until the street dead-ends and come slowly up the driveway on your left. Please park in the grass lot and come through the white picket fence and through the teal doors.
Here is a map to help as well: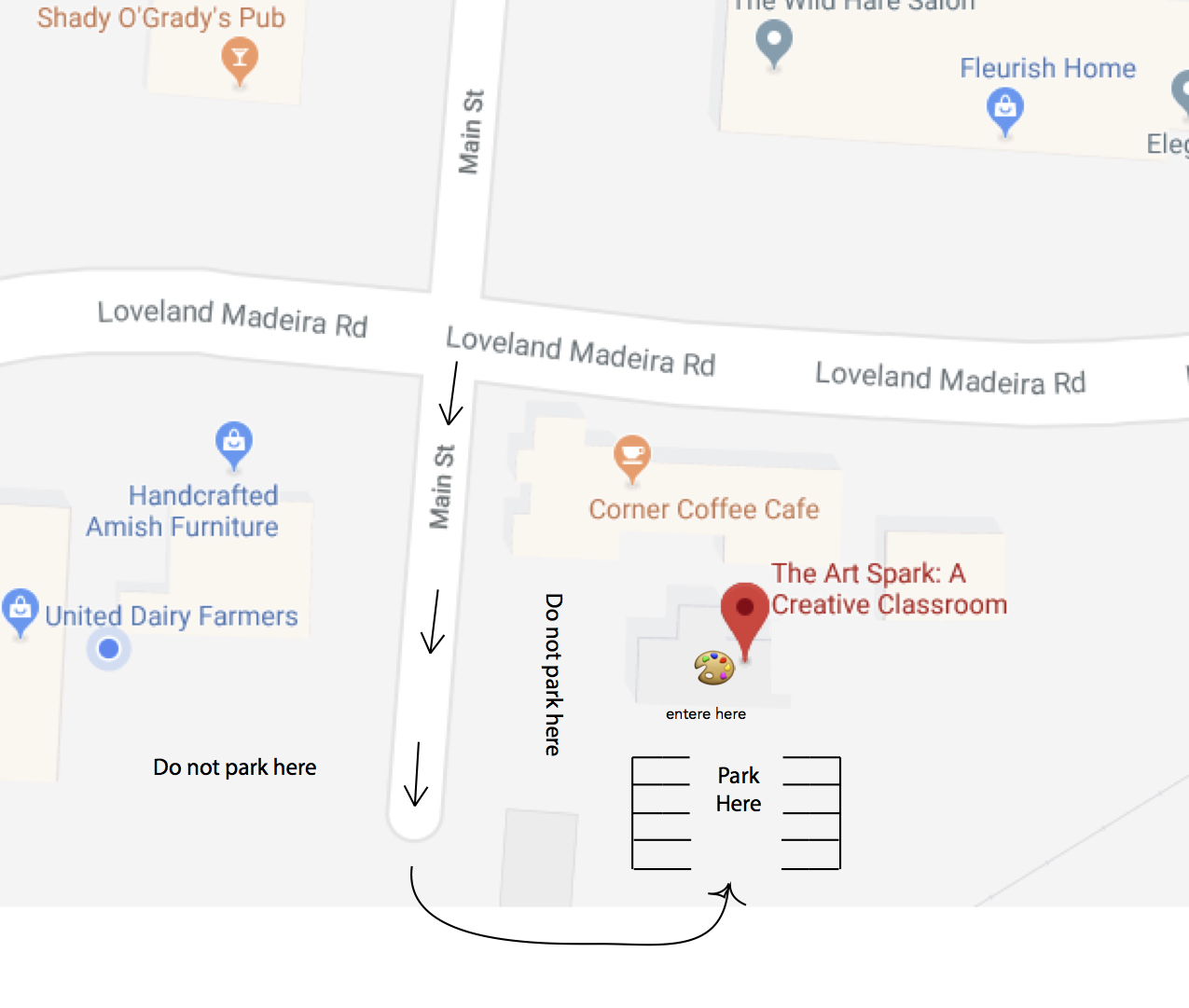 Our Studio

What time do doors open for camp?
Doors open for 9-Noon camp at 8:55AM.
Doors open for 1-4 PM camp at 12:55 PM.
What is the teacher/student ratio?
3-4 Year Old Camps: 5 students to 1 teacher. We accept 8 campers per camp with one teacher and one assistant. All lead teachers have degrees and have studied art & education.
5-9 Year Old and 9-12 Year Old Camps: 5-7 students to 1 teacher. We accept 14 campers per camp with one teacher and 1-2 assistants based on size.
What makes your staff special?
Teachers at The Art Spark all have a passion for teaching, art, & education. All teachers at The Art Spark have degrees in art, education, OR are currently in college studying education! We truly love what we do-to learn more about our staff click here.
What if I need to cancel a camp(s)?
Cancellation must happen two weeks prior to the camp your child is enrolled for.  You will receive a full refund if you cancel 2 weeks prior.  If we are not notified of a cancellation two weeks prior to a camp, you will be billed the balance on your account. If the cancellation is due to illness, you can reschedule (if space is available) or have a refund.
What should my child wear to camp?
Please send your child in clothes they can get messy in. We might be mixing up slime one day or painting with our hands and feet the next! We cannot guarantee that the paint will wash out of your child's clothing. Your child will have an Art Spark t-shirt to wear during camp, but it is still best for the to wear old clothing. Some students wear the same "camp" outfit everyday, which is a great idea! 
Does my child go outside during camp?
We may do some extra messy projects outside in our fenced-in yard at our Main Avenue studio. We will eat snack outside if weather permits. We will spend most of our time inside the studio.
What should my child bring with them?
We will tell campers this, but due to allergies children at The Art Spark are not permitted to share snacks.
Half day campers:Pack a snack and drink.
FULL DAY CAMPERS: Pack 2 snacks and a lunch. Or a large lunch that can be split up for snack times.
They should wear clothes that can get messy. We cannot guarantee paint will wash out. 
When do campers take projects home?
Each Friday of camp, parents arrive 15 minutes early for pick-up to see what their child has created.  This is also the day when campers will take all their projects home with them!