Winter camps at The Art Spark are a special opportunity for your child to explore, create, brainstorm, and build during their winter break! Each day offers a fresh new camp, with a different theme to stimulate imagination and foster your child's development.

Winter Camps 2020-2021 will be posted in October 2020
Looking to see what we do at Winter Camp? These camp descriptions are from 2019-2020 but, please check them out to see examples of what we do! View Camp Descriptions Here:
How much for camps cost? 
Camps cost $45 per half day camp and $95 per full day camp. The cost will go up to $60 per half day and $110 for full day after Dec. 1st. Please pay when you submit the form with credit card or paypal.
Where are winter camps located? 
All winter camps are located at our 9430 Main Avenue studio. When finding our studio, we have found it works best to use google maps. We are in Symmes Township next to Corner Coffee Cafe! (Right off Loveland Madeira Road)
The Art Spark is located on Main, right next door to The Corner Coffee Cafe + Antique Peddlers. (Shown below.) Our studio is to the Right of the building shown.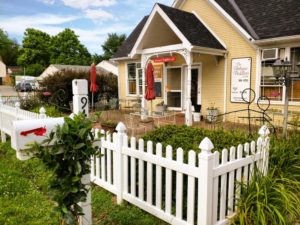 How do I get to your location at 9430 Main Avenue?
When you come here for the first time, please use a GPS and plug in The Art Spark 9430 Main Avenue 45242.  It may autocorrect avenue to street, but you still must put avenue in order for your GPS to take you to the correct location. The sign outside says, Main Street, but the GPS will only find us if you type in Avenue.  *We are located next to Corner Coffee Cafe and across the street from Shady O'Gradys. When you arrive, go until the street dead-ends and come slowly up the driveway on your left. Please park in the grass lot and come through the white picket fence and through the teal doors.
Here is a map to help as well: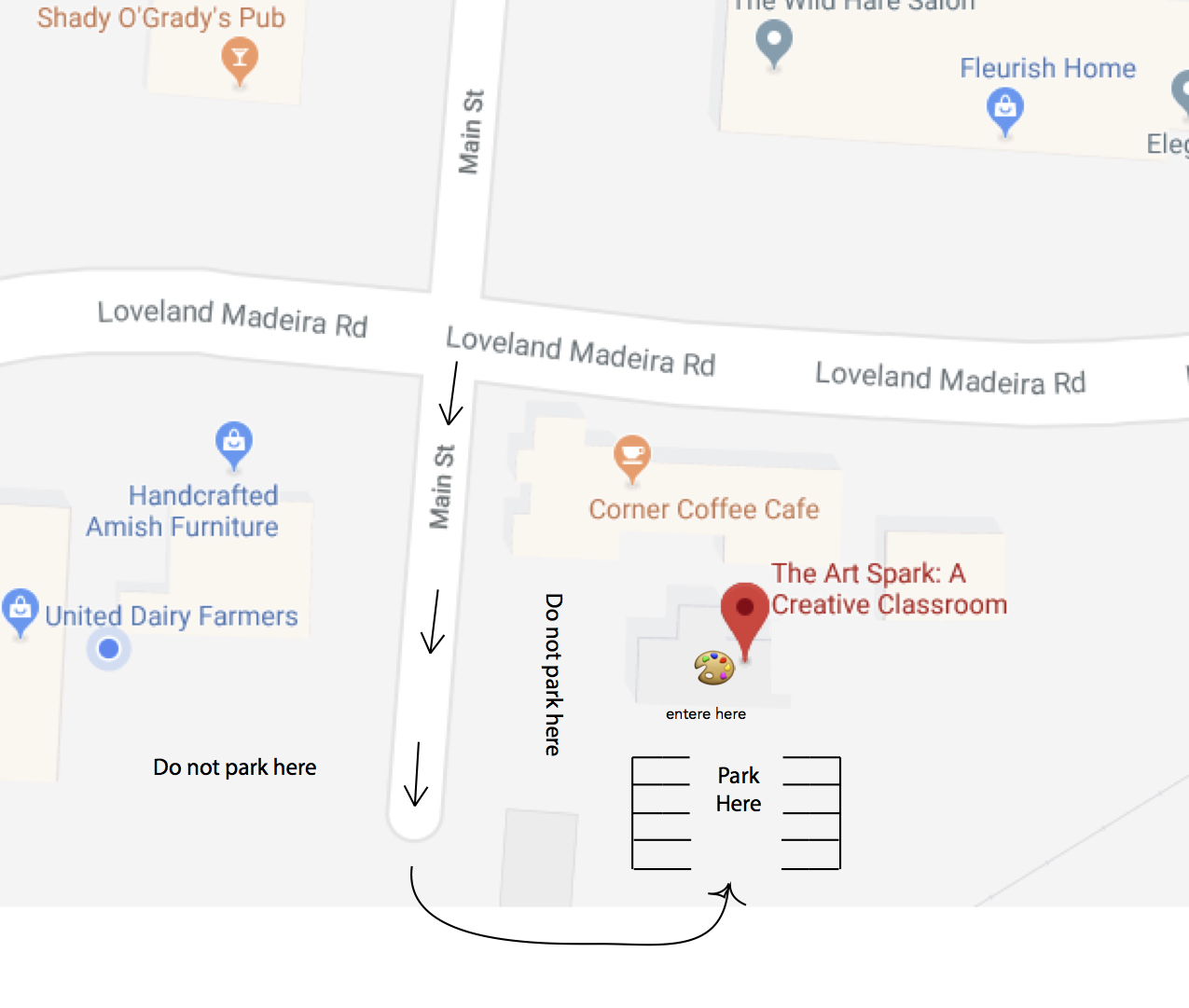 How do I enroll for camp?
Scroll to the bottom of this page to find the enrollment form for all winter camps.
What should my child wear/bring?
Wear: All children should wear clothes that they can get messy in. We may be mixing up slime one minute, and painting with our hands and feet the next!  We use a variety of materials and cannot guarantee that they will wash out.
Bring: All children should bring a snack and drink or water bottle to camp. We will be taking a break halfway through camp to chat, relax, and eat a snack. We do not provide water bottles or cups.
Full Day Campers Only: Pack 2 snacks and a lunch and a drink/water bottle.
When can I drop off/pick up my child?
Doors open for camp 5 minutes before camp starts. Please pick your child(ren) promptly at the end time of his/her camp. Please call us to let us know if you will be late: 513-936-8333. Should you be later than 15 minutes late, a $10 late fee will be applied.
What does a day at winter camp look like? 
Each camp we will begin by discussing the theme of that day of camp. We may watch a short video, look a pictures, or read a book together to help us develop a deeper understanding of the theme. Once we have acquainted ourselves with the theme, we will brainstorm different ways to create around the theme. We may be using paint, clay, recyclables, shrinky dinks, model magic, oil pastels, watercolors, and just about any craft item imaginable! Projects will be guided by the students' ideas and creativity. Children will create 1-3 projects at camp each day. Some projects may be created as a team.
When will I receive an e-mail with camp details? 
You will receive an e-mail with details for your camp the week before camp.
Is there a full day option?
Yes, we offer full day options for children ages 5-9 years. There is not an option for full day camp for 3-4 year olds or 10-12 year olds.
What is the teacher/student ratio?
3-5 Year Old Camps: 5 students to 1 teacher. We accept 8 campers per camp with one teacher and one assistant. All lead teachers have degrees and have studied art & education.
5-9 Year Old and 9-12 Year Old Camps: 5-7 students to 1 teacher. We accept 14 campers per camp with one teacher and 1-2 assistants based on size.
What makes your staff special?
Teachers at The Art Spark all have a passion for teaching, art, & education. All teachers at The Art Spark have degrees in art, education, OR are currently in college studying education! We truly love what we do-to learn more about our staff click here.
What if I need to cancel a camp(s)?
Cancellation must happen two weeks prior to the camp your child is enrolled for.  You will receive a full refund if you cancel 2 weeks prior.  If we are not notified of a cancellation two weeks prior to a camp, you will be billed the balance on your account. If the cancellation is due to illness, you can reschedule (if space is available) or have a refund.