Winter camps at The Art Spark are a special opportunity for your child to explore, create, brainstorm, and build during their winter break! Each day offers a fresh new camp, with a different theme to stimulate imagination and foster your child's development.

Winter Camps 2020-2021
Winter Preschool Camps Ages 3-5 years olds
Winter Camps Ages 6-10 years old
How much for camps cost? 
Camps cost $45 per half day camp and $100 per full day camp. The cost will go up to $60 per half day and $120 for full day after Dec. 2nd. Please pay when you submit the form with credit card or paypal.
Where are winter camps located? 
All winter camps are located at our 9430 Main Avenue studio. When finding our studio, we have found it works best to use google maps. We are in Symmes Township next to Corner Coffee Cafe! (Right off Loveland Madeira Road)
The Art Spark is located on Main, right next door to The Corner Coffee Cafe + Antique Peddlers. (Shown below.) Our studio is to the Right of the building shown.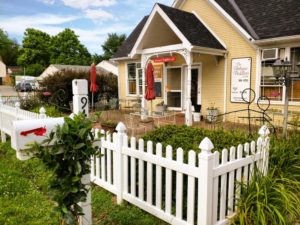 How do I get to your location at 9430 Main Avenue?
When you come here for the first time, please use a GPS and plug in The Art Spark 9430 Main Avenue 45242.  It may autocorrect avenue to street, but you still must put avenue in order for your GPS to take you to the correct location. The sign outside says, Main Street, but the GPS will only find us if you type in Avenue.  *We are located next to Corner Coffee Cafe and across the street from Shady O'Gradys. When you arrive, go until the street dead-ends and come slowly up the driveway on your left. Please park in the grass lot and come through the white picket fence and through the teal doors.
Here is a map to help as well: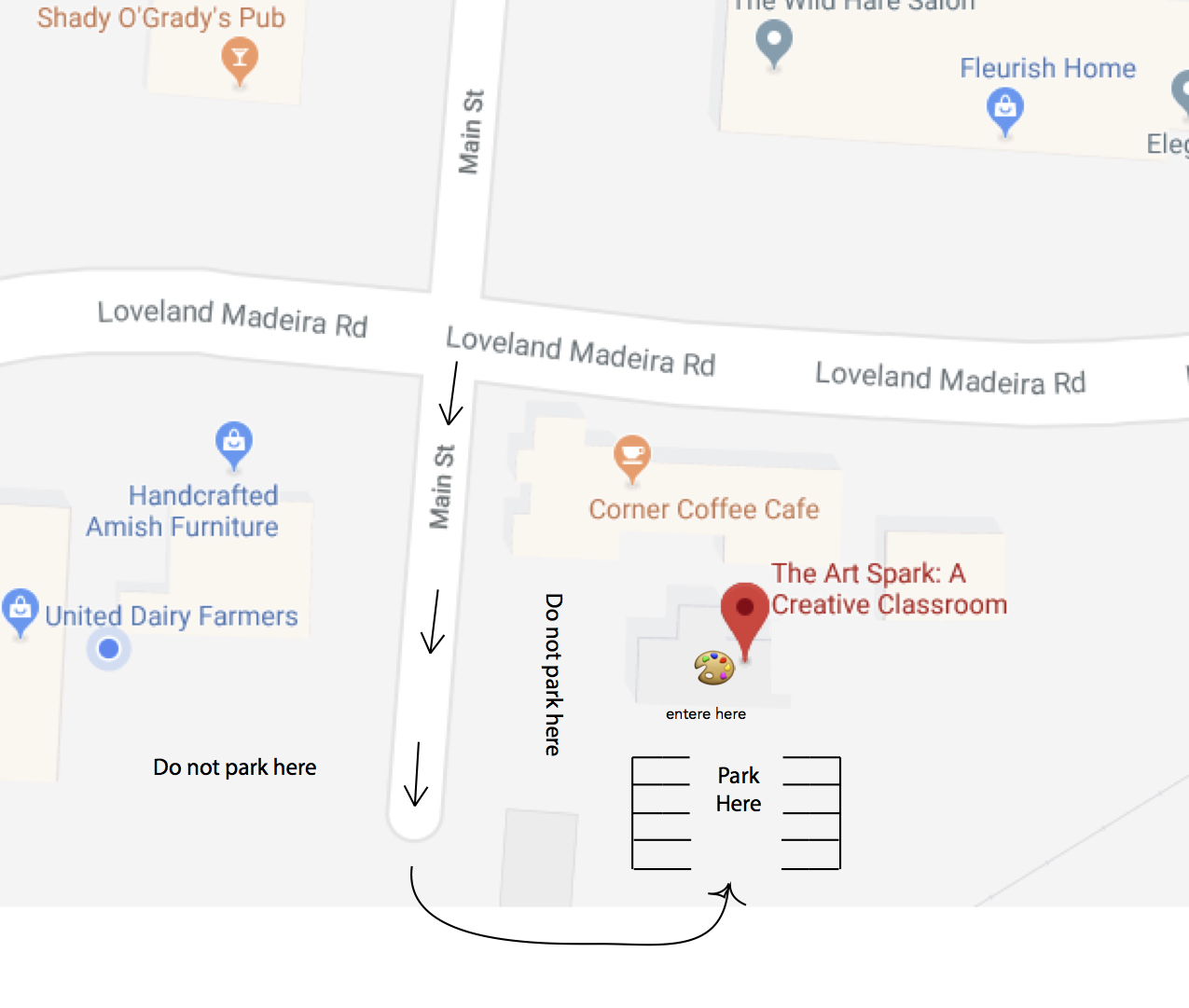 How do I enroll for camp?
Scroll to the bottom of this page to find the enrollment form for all winter camps.
What makes your staff special?
Teachers at The Art Spark all have a passion for teaching, art, & education. All teachers at The Art Spark have degrees in art, education, OR are currently in college studying education! We truly love what we do-to learn more about our staff click here.
What if I need to cancel a camp(s)?
Cancellation must happen two weeks prior to the camp your child is enrolled for.  You will receive a full refund if you cancel 2 weeks prior.  If we are not notified of a cancellation two weeks prior to a camp, you will be billed the balance on your account. If the cancellation is due to illness, you can reschedule (if space is available) or have a refund.
Covid-19 Guidelines
COVID-19 Regulations in Place for 2020-2021 Winter Camp:
1. Arrival Procedure: As campers arrive please stay in your car. Text the number that is sent to you via e-mail before camp begins. There will also be a sign on the fence with that phone number if needed. A teacher will escort your camper into our studio, take their temperature with a no-touch tempural thermometer (temperatures 100 degrees or over will not be admitted) and take them to a handwashing station as required by state law. If parents need to get out of the vehicle for any reason, please wear a mask. Each staff member will also have their temperature taken upon arrival and be monitoring their own health.
2. Pre-school camps will have 1 teacher with 4 students. All siblings camps will have 2 teachers with 12 students.
3. All staff members will be wearing masks throughout camp with the exception of lunch and snack time. While 3-5 year old campers are not required to wear masks to camp, our 6-10 year olds are required. Please speak with your child before camp about the importance of not touching their face, or others. 
4. Children will be encouraged to socially distance themselves from one another. Seating will be spaced out within each classroom. Each child will have an individual caddy of art materials prepared by teachers to limit exposure. Art materials will be sanitized before and after class each day. Hand sanitizer and clorox wipes will be available as needed.
5. Children are required to wear an art shirt or clothing that can get paint or non-washable art materials on them. We will not be using our smocks.
6. Each child is welcome to bring a disposable snack and drink (and lunch if full day camper). All campers will wash hands before and after snack. (Please pack in brown paper bag or plastic bag). Please make sure all contents can be thrown away after snack to limit contamination. Campers will have designated snack spots to store their snack in and will eat outside weather permitting. Snack times will be staggered to keep groups small. Pre-School campers will eat from 10:00-10:15 AM. Sibling Campers will have snack from 10:45 -11:00 AM. Preschool camp ers will eat from 2:00-2:15 PM during afternoon camps. Sibling campers will have snack from 2:45-3:00 PM. Please do not pack unnecessary items for your camper that are not disposable.
7. Please check out our online art exhibitions-which will be posted to Facebook and Instagram. Instagram: @theartsparkclassroom Facebook: www.facebook.com/theartsparkclassroom
8. Leaving Procedures: Students will wash hands at the end of camp and be escorted one at a time from their classroom. Please text the same number you texted upon arrival when you are present at pick-up. Your child will be brought to your car. Please do not get out of your car.
9. Zero Tolerance Policy: If your child is exhibiting ANY symptoms of sickness please do not send them to camp. Specifically: stomachache, diarrhea, fever, cough, chills, shortness of breath, rash, frequent sneezing, runny nose, loss of smell or taste etc. If anyone in your household is sick we ask that you do not send your child as well.