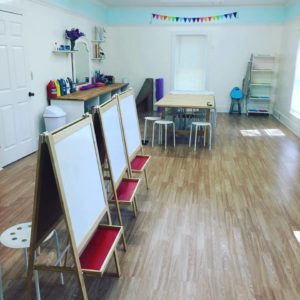 The Art Spark works to nurture the child as a whole by fostering a creative environment where children use unique brainstorming techniques to develop their individual ideas, and work as a team. We truly believe our classes offer children the best quality art classes in the city. The Art Spark's classes, camps, and events are only led by instructors who have studied art or education extensively at the collegiate level and beyond.
Co-Owner: Jacquelyn Hoffman  graduated with her BS in Art Education with a minor in Educational Leadership from Miami University in May of 2010.  She has refined her skills in painting and printmaking, but she is most passionate about teaching different art forms to children of all ages.  Her favorite thing about teaching at The Art Spark is providing children with lasting memories that will instill imagination and creativity into their future endeavors.  Being a co-owner of The Art Spark is incredibly rewarding and makes everyday exciting and educational.  Jacquelyn gains inspiration from her student's ideas and is continually amazed by the art created by young artists.
Co-Owner: Emily DiNardo graduated with her BFA in Art Education with a focus in 2-D Studies from Bowling Green State University in May of 2010.  She is passionate about the diverse art and culture that the world offers, and spent her final semester teaching in an international school in Rio de Janeiro, Brazil.  Her primary focus in art is printmaking, and sculpture, but has explored many different forms of art. Her favorite thing about co-owning The Art Spark is her ability to use the creative process in solving the challenges of teaching and business.  Emily is a passionate teacher who is inspired by the creativity of her students.  Emily is also a new mother and loves watching her daughter grow and explore the world around her.
Creative Assistant and Teacher: Hannah Graff  began working at The Art Spark in the summer of 2013.  She graduated with her B.A. in Illustration from The Art Academy of Cincinnati in May of 2013.  She has always surrounded herself with art and as a result, has made it her career. After graduating, Hannah went on to create the winning poster for the 2014 Cincinnati Summerfair.  At The Art Spark, Hannah uses her own experience and knowledge to ignite children's imagination and creativity.  Her favorite thing about teaching is seeing a child develop their own unique artistic style.  Hannah continues to create many of the decorations, sets, scenes, and props for Art Spark's birthday parties and events as well as teach and assist.
Teacher: Terri Graff  graduated from the University of Cincinnati with a BA in English Literature and a minor in Creative Writing. She has been an Assistant Teacher at Country Hills Montessori for over sixteen years. She enjoys the spontaneity and joy that children find at the Art Spark. She finds it incredibly rewarding to see the confidence that the children gain by using their creativity to problem solve and express themselves in so many ways at the studio. When Terri is not teaching she enjoys gardening, reading and having fun with her two silly dogs, Finn and Phaedra.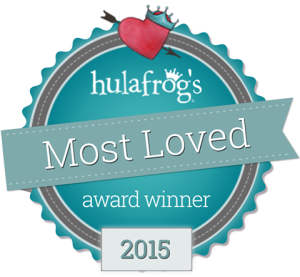 In addition to being the winner for Hulafrog's award winner as most loved by the Cincinnati Public for classes, and camps, we continually receive positive reviews from our current customers.
We were also interviewed by Business Info Guide about how we are start our business. Check out our full interview here.
Check out what people are saying:
"Just wanted to thank you for pouring your hearts, souls, creativity, hard work, and loveliness into my daughter's party.  Please thank your helpful crew, too.  It was great to have so many people to make sure the projects went smoothly and the kids were engaged. My daughter had a blast — one of her favorite parties ever.  Truly, all the children looked like they had a great time and I thought you'd get a kick out the feedback.  One friend just e-mailed me to say her SON said he wants his party with you next time.  And everyone kept complimenting me on how unique and wonderful it was.  🙂  The kids were so delighted when they showed their parents what they had made.  I loved how you spoke to all the children and how you made her feel special.  I also appreciated that you tried to learn so many of the kids' names.  They enjoyed the free play and the projects.  I loved when you asked them questions, too, and allowed them to participate.  I also appreciated the recognition you gave to Alana for her donations to the shelter.  She was so proud.  The little notebooks were a good idea, too.  The kids were mesmerized and also quite busy — which I like.  Nobody every looked bored or antsy.  In the end, the kids were far from ready to leave — sign of a good party, right?"
"When I asked my son if he liked The Art Spark he said…I don't like it, I LOVE IT!"
"After attending the first week of summer camp at The Art Spark my child requested I cancel all other summer camps so she could attend more camps at The Art Spark."

"My daughter loves Art Spark and asks me all week when she gets to go to class."
"I asked my daughter if she wanted to come to class twice a week instead of just once and she said…I want to come EVERY DAY!"
What is The Art Spark?
The Art Spark is a creative children's classroom, opened in September of 2010 in Montgomery. Our studio offers children infinitely many ways to explore art.  We are now located in Symmes Township, right off Loveland-Madeira Road, right next to The Corner Coffee Cafe and Antique Peddlers. We also offer afterschool classes to school in need of an art program throughout the city. As professional art educators, we know learning and art is beyond specific skills and tools. Our studio encourages students to ask questions, solve problems creatively, and utilize art materials to achieve unique solutions. Whether painting large scale murals, sculpting food and dishes from around the world, or deciding what it looks like inside of a rainbow, imagination is ignited for every child who has the opportunity to learn and grow at The Art Spark.
What is a spark?
A spark is the most valuable moment of a child's creative experience. When children create art in our classroom, they will constantly ignite "sparks", or ideas. As the sparks develop, your child will: