Jacquelyn Graff and Emily Otte are the owners and teachers of The Art Spark. They have been working together for 6 years to offer students the best possible art experience! As young college graduates with teaching degrees and close to no funding, they worked to establish a business that focused on fostering growth in child development through art. Their main focus is helping each child gain confidence, creativity, and cultural awareness through classes, camps, birthday parties, and events. They also both continually stress the importance of treating people with the love respect they deserve.  Come Spark creativity with these two special teachers.
Jacquelyn Graff graduated with her BS in Art Education with a minor in Educational Leadership from Miami University in May of 2010.  She has refined her skills in painting and printmaking, but she is most passionate about teaching different art forms to children of all ages.  She is a life long learner, continually developing her skills in the classroom and studio.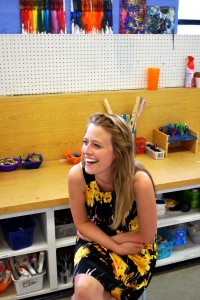 Emily Otte graduated with her BFA in Art Education with a focus in 2-D Studies from Bowling Green State University in May of 2010.  She is passionate about the diverse art and culture that the world offers, and spent her final semester teaching in an international school in Rio de Janeiro, Brazil.  Her primary focus in art is printmaking, but has explored many different forms of art.  Emily is a passionate teacher who is inspired by the creativity of her students.
*Both Jacquelyn Graff and Emily Otte are State of Ohio Licensed and Certified to teach K-12 Art Education.
What is The Art Spark?
The Art Spark is a creative children's classroom, opened in September of 2010 in Montgomery. Our studio offers children infinitely many ways to explore art.  We are located inside of Rockwern Academy. We also offer afterschool classes in need of an art program throughout the city.
As professional art educators, we know learning and art is beyond specific skills and tools. Our studio encourages students to ask questions, solve problems creatively, and utilize art materials to achieve unique solutions. Whether painting large scale murals, sculpting food and dishes from around the world, or deciding what it looks like inside of a rainbow, imagination is ignited for every child who has the opportunity to learn and grow at The Art Spark.
What is a spark?
A spark is the most valuable moment of a child's creative experience. When children create art in our classroom, they will constantly ignite "sparks", or ideas. As the sparks develop, your child will:
Solve problems creatively
Learn to value cultural diversity
Gain confidence